ITIL is the abbreviation of Information Technology Infrastructure Library or IT Infrastructure Library. What does ITIL propose for a company? What are the principles of ITIL? We will explore ITIL in this post.
What is ITIL?
ITIL is actually set of BEST PRACTICES for IT Service Management. Main purpose of ITIL is providing best practical implications for service management in IT Industry. While doing service management, the main purpose is providing required value and quality to the users of the service and enabling this with minimum cost. At this point, ITIL helps you to achieve this with the Best Practices in the IT industry.
ITIL is owned by Office of Governance Commerce which is abbreviated as OGC.

Basic Principles of ITIL
ITIL emphasizes the integration of IT into business processes and the orientation on business. When you are delivering IT services or operations, your services or operations are serving to a business strategy actually. And one of the main purposes of ITIL is ensuring this bridge between IT and Business to serve regarding services and operations to regarding stakeholders.
ITIL is a generic model. So this ITIL is a concept that can be applied to any company, organization or function providing IT services. It includes a set of best practices; therefore, ITIL provides a generic model that can be applied any company, organization of function.
ITIL is a service and process oriented approach. IT service management is done by placing service and processes on the heart of the figure in ITIL.
ITIL is not a tool and cannot be implemented. ITIL defines best practices for IT service management but it does not provide you a step-by-step guide or recipe to implement a process in your organization. ITIL provides best practices for IT service providers to apply optimum ways for service management.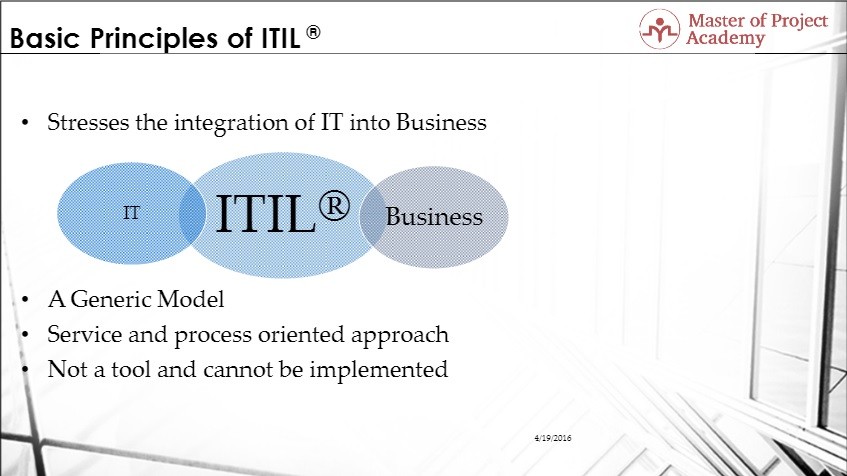 Implementing ITIL Best Practices in an Organization
First, defining and safeguarding IT Services. In order to manage IT services in an organization, first step is to know what you will be managing. Therefore, provided IT services by an organization must be defined as a best practice of implementing ITIL.
Security of the services provided by an IT organization is crucial as well. For instance, your bank provides you financial services and customer service. And you pay the price for the services provided by your bank. Can you imagine that when a customer support representative can reach all of your confidential personal information? This will be unaccepted by several customers of the bank. Therefore, sensitive and confidential information must be masked or safeguarded when providing IT services and ITIL Best Practices to ensure this for an IT service organization.
Second, implementing ITIL best practices in an organization means designing and implementing processes. Briefly, a process has inputs and outputs. In order to provide better service management, you need to design processes and implement in your organization.
For instance, let's think that you want to withdraw one hundred dollars from your bank account, with your debit card from an ATM. You need to design this process and then implement it to have a better service management.
For example inputs of this service will be your inserting your debit card to ATM, typing your password to access your account and request for withdrawal. And if you are authorized by the ATM, your money will be given to you, transaction will occur in your bank account and your debit card will be given back to you by the ATM.
This is a simple outline of a Withdrawal Process from an ATM. For sure there will be several other steps handled in the background. I just wanted to give you an overall insight of a service process design with this example.
Third and last, implementing ITIL best practices in an organization means continuous Improvement of services and processes. In order to provide better value to the customers, IT services and processes should be improved continuously in an organization. Otherwise, your organization can be defeated by your completion which is providing better services and processes to customers. Therefore, ITIL encompasses continuous service and process improvement.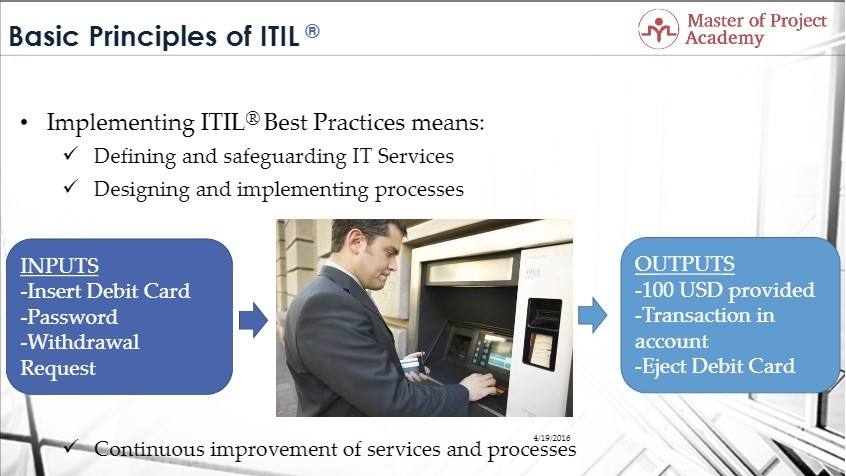 In this post, we described an overview of ITIL, basic principles of ITIL and New Structure of ITIL Service Lifecycle.
Follow us to get latest news about IT & Business World and Certification Exams
Did you see our FREE courses?

Did you take a look at our Certification Courses?
Do you want to earn money just by sharing this article? Learn How