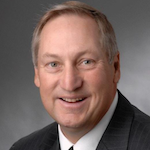 Your instructor for the training is the Bill Lewis.
Bill is a Project Management training professional with over 20 years' experience in project management, 8 years teaching professional project management certifications and business skills including but not limited to negotiations, communications, creative thinking, and leadership.
He lectured Keller Graduate School of Management MBA and PhD students in project management for five years.
Bill holds a PMP certification since 2005 and a Masters degree in Speech Communications with an emphasis in organizational development. Leadership skills include management at Sprint and 23 years of leadership positions in the US Army. Retired from the Army in 1996 as a Lieutenant Colonel.
Bill conducted over 100 PMP certification "boot camps" with a high percent first attempt pass rate.
He developed and conducted professional project management certification training for displaced workers resulting both professional certifications and new jobs. Besides, he designed and managed the Project Management Competency program for business with no formal project methodologies. Other specialties include taking complicated training subjects and condensing them to simulations and hands on learning.
Currently conduct in depth training in all the project management knowledge areas.